We have put a lot of time & effort into designing ALL of our Wettie wetsuits from scratch using our 40 years of spearfishing & commercial diving experience as well as suggestions from all sorts of divers around the country from scuba, to spearos, to commercial.
Our suits are especially designed to suit NZ conditions as well as the way we are built. Covering anyone from 20kg to 160kg, in our men's, women's and children's wetsuits. You can be rest assured that if you buy one of our Wettie wetsuits, we will fix any defects in material or workman ship over the first 5 years.
This warranty covers: The workmanship such as inside gluing/seams, delimitation of the material. Our 5 year wetsuit warranty only applies to Wettie wetsuits purchased from authorised Wettie dealers and any claims must be accompanied by the original proof of purchase
The 5 year warranty does not cover fair wear & tear or issues that arise as a result of, or are contributed to by, any failure to adequately maintain the wetsuit or due to mis-use. These include: Rips/tears, broken thread, sun fading
The best part of our wetsuit warranty is we are able to remedy your situation on site – Meaning a very fast turn around (within minutes, hours or the day if possible) We do our repairs & alterations on site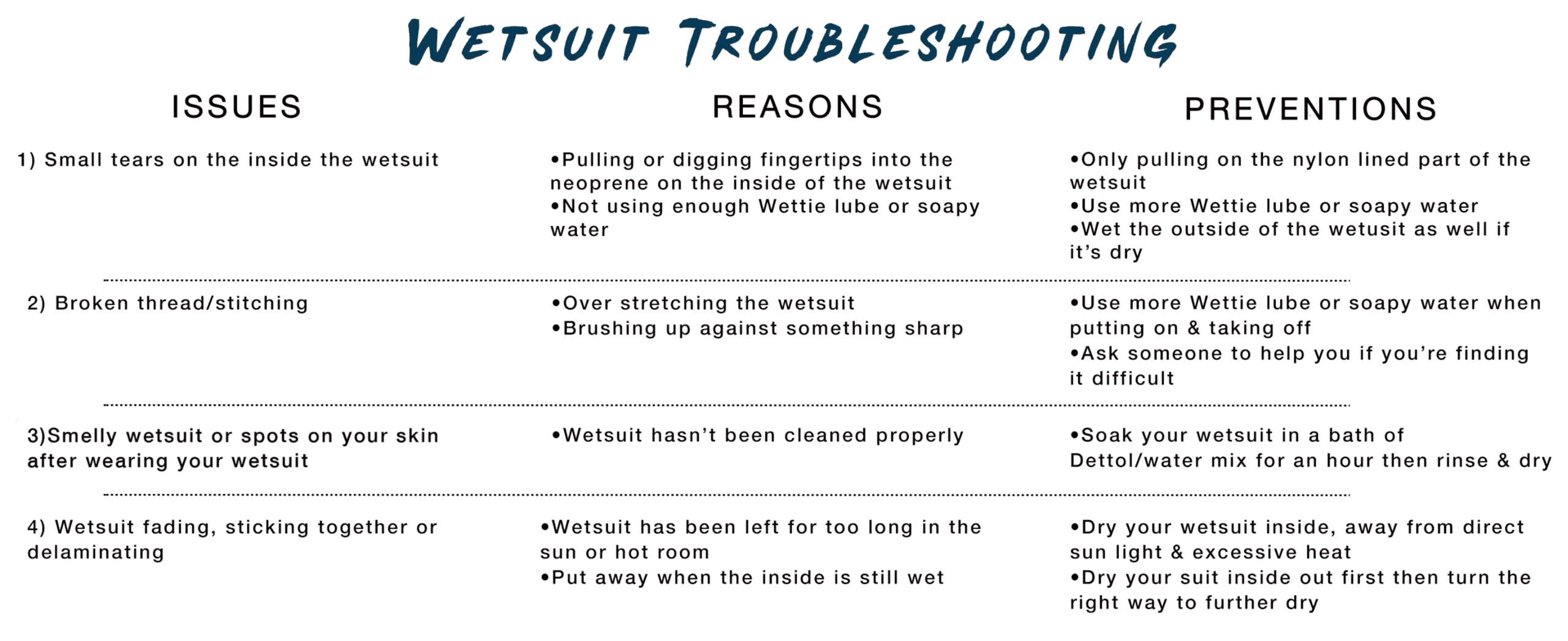 ---
Wettie warrants only to the original purchaser of this product from a Wettie-authorized reseller or distributor that under normal use and service for two years after date of purchase. Wettie reserves the right, before having any obligation under this 5-year warranty, to inspect the wetsuit, and all costs of shipping the wetsuit to Wettie for inspection shall be borne solely by the purchaser. Wettie also reserves the right to make the final decision on whether the warranty claim falls under defects in material or workmanship, whether it will be repaired or replaced or if it falls under general wear and tear.
In order to claim under this limited warranty, Purchaser must make claim to Wettie immediately, and must present an original receipt for the product. Please retain the dated sales receipt as evidence of the original purchaser's date of purchase. You will need it for any warranty service. In order to keep this 5-year warranty in effect, the product must have been handled and used as prescribed and as per any instructions given with the suit (Such as the 'soaping' requirements) this limited warranty does not cover any damage due to accident, misuse, abuse or negligence.
This limited warranty is non-transferable and does not apply to any purchaser who bought the product from a reseller or distributor not authorized by Wettie, including but not limited to purchases from internet auction sites. This warranty does not affect any other legal rights you may have by operation of law.